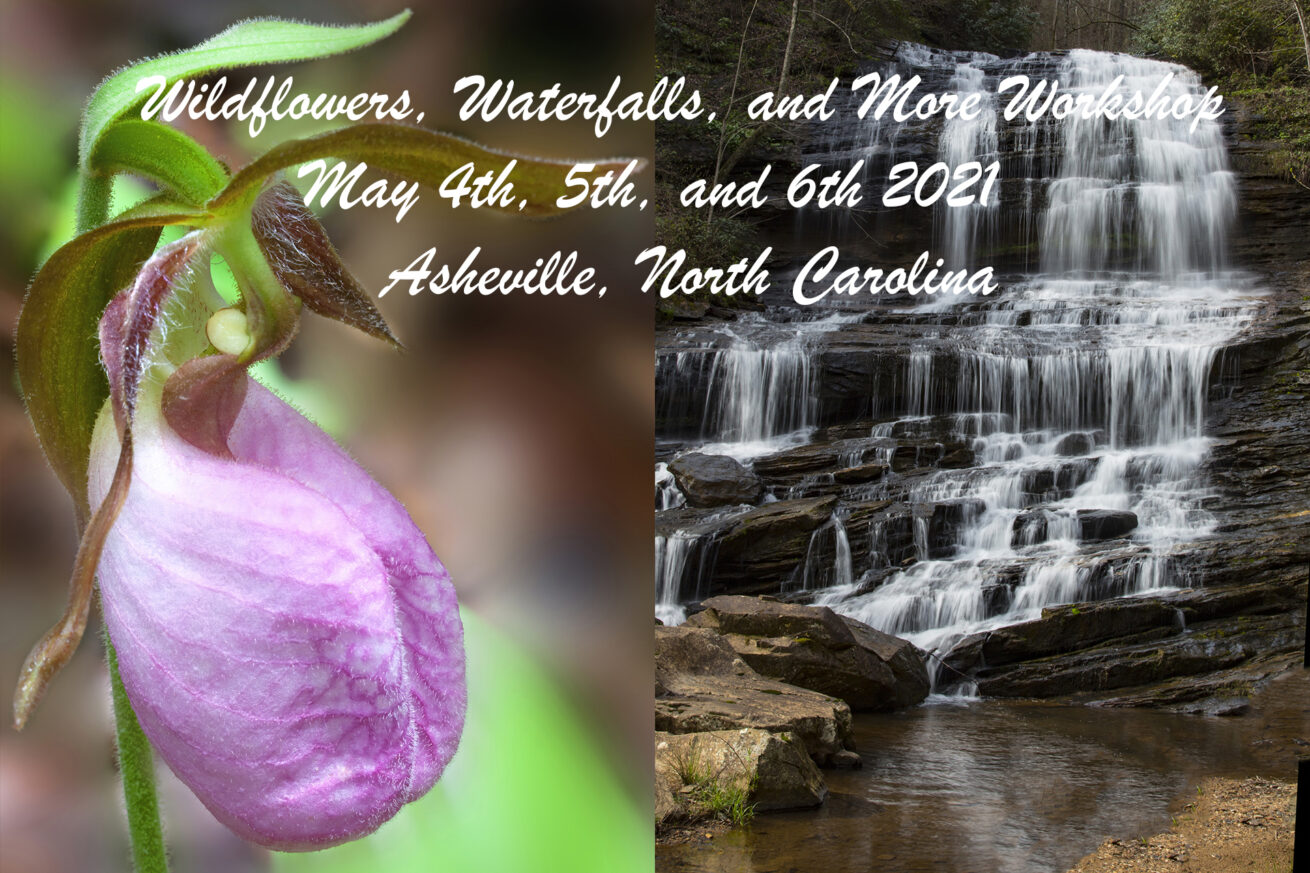 Have you ever wanted to photograph beautiful wildflowers or picturesque waterfalls? Then I am excited to announce the first annual Wildflowers and Waterfalls workshop coming this spring on May 4th, 5th and 6th 2021 in beautiful Asheville NC. I will be joined by my good friend Susanna Euston, an award winning photographer,CNPA coordinator, workshop leader,and a resident of the Asheville area. Susanna and I will be co-leading this exciting new workshop exploring some beautiful waterfalls and also photographing some amazing wildflowers native to the Blue Ridge area. We will have a brief meeting over dinner on the evening of May 3rd at one of the local restaurants to discuss the locations of this workshop based on intense scouting the week prior. This will be followed by two and a half days in a photographer's paradise photographing some of the hidden gems of western NC.
Cost of the workshop is $895 per person.
Some of the topics we will cover during this workshop will be techniques on how to capture the water, creating a silky smoothness expressing movement of the water, while having the surrounding landscape tack sharp. Susanna will share some of her favorite techniques of creating an artistic look to your images. In addition, I will explore the macro side capturing wildflowers up close. Gear choices for this workshop should consist of a wide angle lens like a 16mm-35mm, a portrait lens similar to a 24mm-105mm, and then a macro lens for close up work. You will need a tripod, a diffuser if you have one, and a flash to do some fill light if necessary. Telephoto lens can be optional if we see some wildlife along the way.
A special room rate has been set up through the Hampton Inn on Brevard Rd and you can just click on the link below to reserve your room.
Hampton Inn & Suites Asheville Biltmore Area (828)575-9593
Booking Link: http://group.hamptoninn.com/MikeMatthewsPhotography
Not included in the workshop: food, lodging or transportation.
So if you are looking for a way to break away from the 2020 blues, then this workshop is for you for a wonderful photographic experience.