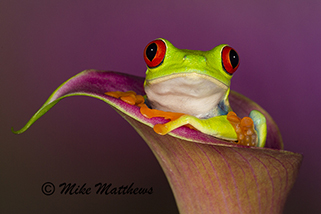 Frog and Reptile macro workshop
Two dates available:
Saturday, and Sunday Feb 18th and 19th 2017.

"SOLD OUT"
Saturday, and Sunday Feb 25th and 26th 2017.
Greetings from southwest Florida,
Do you want to escape the icy grips of this coming winter, and create award winning images? Then please join myself and Adam Jones for this unique and exciting workshop. You will have the opportunity to photograph 30-40 species of exotic reptiles and amphibians such as the red eyed tree frog, brightly colored dart frogs, and numerous lizards and snakes. Most of the animals this coming year will be new and different from previous workshops. Also new this year will be my personal collection of exotic butterflies, moths, and insects to do some extreme close up still photography. All live animals are set up in natural settings in a controlled environment with live plants, flowers, leaves, and bark to produce stunning photographs that would be hard to duplicate even in the wild. Many of our past participants have won numerous awards in photo contests and this year will be no different.
So, please sign up early. This workshop sells out quickly.Gear list for this workshop:
1) Macro lens: 50mm to100mm work the best.
2) Ring Flash, Ray Flash, or macro Twin Flash work well.
3) Speed-light flashes can work well if used with a diffuser.
4) Extra batteries for flashes.
5) Extension tubes are optional for the longer lens.(180MM macro lens)
6) Tripods are not needed for this workshop.
7) Need equipment? Try http://www.lensrentals.com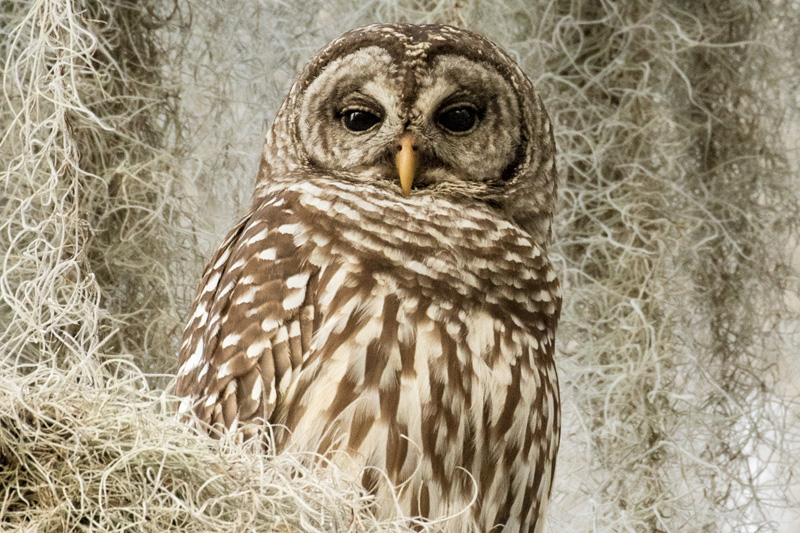 Have you ever wanted to go on a wildlife / birding safari in the wilds of central Florida? Then please join me and my good friend Adam Jones in sunny Florida for three intensive days photographing a wide variety of birds, alligators, and elegant landscapes of stately live oaks draped in spanish moss.
Central Florida is an amazing place and we will be there to guide you every step of the way as we explore some of our favorite birding locations. Adam is a Canon Explorer of Light instructor, and a great photographer. We led this workshop to the same locations last winter with outstanding results. We photographed: Kingfishers, Limpken, Sandhill Crane, Great Blue Herons fishing & nesting, Green Herons, Tri Color Heron, Great Egrets, Snowy Egrets, Anhinga, Osprey, Red Shouldered Hawk, Pied Billed Grebe, Little Blue Heron, Glossy Ibis, Scrub Jay, Black Crowned Night Heron, Whistling Ducks Alligator, Rat Snake, and Raccoons. Additionally the moss covered live oak trees at Circle B Ranch make outstanding landscape subjects located just a few yards from our cars.
Itinerary:
Feb. 20th. 6PM, meet and greet at the Hilton Garden Inn, Fort Myers, FL for briefing on basic camera settings, techniques, and departure time for next morning.
Feb21st. Early AM departure from Hilton Garden Inn, Fort Myers to the Venice Rookery. Begin shooting at first light and throughout the morning photographing. This action packed location, features nesting egrets, Anhingas, and Great Blue Herons on a small island just off shore.The Venice Rookery is a spectacular location for Great Egrets in full breeding plumage, lots of interaction in and around nests including the feeding of young chicks. We commonly capture great flight shots as Great Egrets, Great Blue Herons, and Anhingas are taking off and landing right in front of our lenses. With so many birds nesting so close together, there is territorial squabbling and fighting action to capture as well.
Depart Venice Rookery mid-day for lunch, drive to Circle B Ranch in Lakeland, FL. Photograph Circle B Ranch in best afternoon light until sunset!
Feb.22nd Sunrise shoot at Cirle B Ranch. Beautiful location for foggy vistas of giant live oak trees draped in spanish moss. Walk on foot to various locations for birds, lagoons, and lots of alligators.This may be one of the best locations in Florida for great Limpkin photos.The diversity in this wetland is amazing. We photographed osprey fishing, Red shouldered Hawks, huge alligators, snakes, turtles, bobcats, and many varieties of perching birds.
Depart Circle B Ranch mid day and drive to Merritt Island National
Wildlife Refuge. In route, we stop for a fun shoot at Cruickshank Sanctuary, noted for extremely tame scrub jays. So tame, they often land on photographers cameras, and even on your head. Once everyone has captured great scrub jay images, we head on to our final hotel in Titusville, FL. Followed by an early dinner and late afternoon shoot at Merritt Island until sunset.
Feb. 23rd. We are back at Merritt Island for a full morning exploring and photographing the amazing concentration of bird life found here. This National Wildlife Refuge offers wide-open wetland environment. With an easy drive through, the refuge is ideal for stopping for interesting, often action packed photos. It's not uncommon to see Reddish Egrets dancing about with wings spread, as they engage their fanciful fishing tactics. The refuge is also a great location to photograph skimmers as they glide inches above calm lagoons skimming their lower beak in the water in graceful flight.
The diversity at Merritt Island National Wildlife Refuge is amazing. In recent years, the refuge has become one of the must see locations for bird photographers. Last year, we saw and photographed: Eagles, Red-Winged Blackbirds, Glossy Ibis, Limpkin, Purple Gallinule, Warblers, Green Herons, Blue Herons, Whistling Ducks, Anhingas, Commorants, Osprey, and the Roseate Spoonbill.
I
Suggested Lodging:
Feb.20th: Hilton Garden Inn Fort Myers Airport/FGCU, 239-210-7200
Feb.21st: Hampton Inn Lakeside Village Dr. Lakeland, Fl. (863)-603-7600
Feb.22nd: Hampton Inn, I-95 Kennedy 321-383-9191
Food, Lodging, and Transportation not included.
Adam and I enjoy teaching, and we are there to help you every step of the way in a very friendly atmosphere. I hope you will join us for some of the most fun you'll ever have in the field exploring the less crowded areas of central Florida.